Are you looking for building regulations drawings architects in London? Our RIBA local architect services works throughout Hounslow, Twickenham, Richmond, Kingston Upon Thames, Teddington And Throughout London.
When Are Building Regulation Drawings Needed?
Building Regulation drawings are curated by trusted architects, structural engineers and building control professionals. These help property owners ensure security and safety when renovating existing buildings, new buildings and house extensions.
Trimble Architects Ltd are a fantastic company based in London that has a talented, qualified team to assist any individuals or businesses with the designing, approval and final construction methods of their building plans. Building regulation approval is obtained through accurate and suitable drawings that reflect your specific structural engineering design while complying with the associated legislation for your location.
The UK government sets Building Regulations across England and Wales, and it is a statutory requirement to guarantee the health and safety of your workers and those living in the area. When your plans have finally received permission to go ahead, you will receive building regulation approval, which is an official document.
The document states that your entire project covers the ideal fire resistance and protection guidelines, structural integrity, accessibility, energy performance, electrical and gas safety, and acoustic performance. When all boxes are ticked, only then can you begin construction.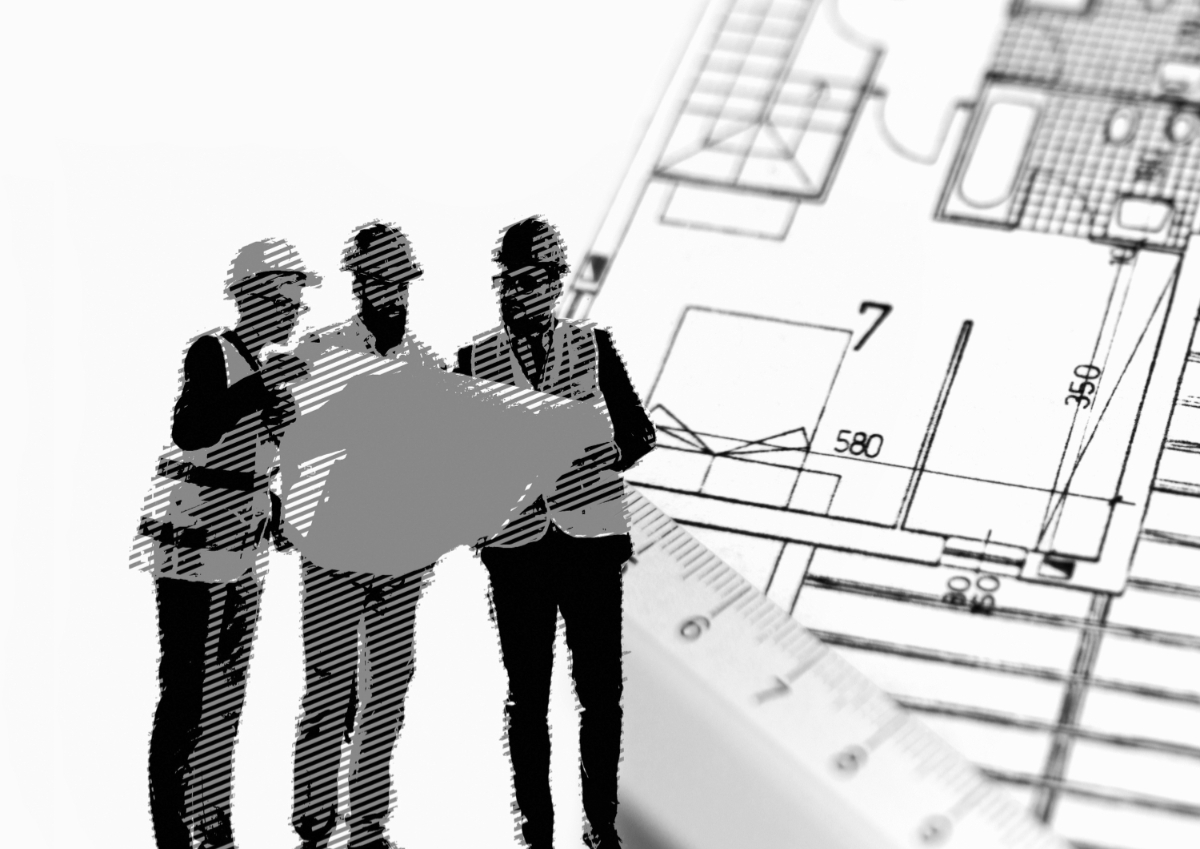 All essential guidelines and regulations are defined by the English and Welsh governments, local councils and secretary of state. Finally, they are advised by the BRAC (the Building Regulations Advisory Committee).
Trimble architects work predominantly throughout London. Typically, the building regulation drawings in London tend to overlay buildings, extensions, significant alterations and only specific changes of use such as barn conversions.
Our architects in London must carry out regulated work that ensures the quality of your build isn't compromised or puts your building's performance at risk.
Some builds won't require building regulations; for example, the erection of a detached single-storey less than 15-30 square meters, especially if there are no conservatory extensions or sleeping accommodation in the area. You also will not require any approval to repair constructed parts of your build structure, as long as you intend to utilise the same materials to remedy it.
What are the Building Regulations?
Building Regulations set the standards and guidelines for specific buildings in a particular area or location. They exist to ensure each type of building or property is safe for those individuals living in or around them.
Building Regulations consist of a series of Approved Documents covering various technical aspects concerning the overall structure of a build suitable for the area and the kind of construction work they need.
The Approved Documents incorporate different 'Parts'. These sections outline the constructional works for each type of building to ensure the health and safety of your builders and the general public living in the area.
The Approved Documents consist of:
| | |
| --- | --- |
| Part A | Structure |
| Part B | Fire Safety |
| Part C | Site preparation and resistance to contaminants and moisture |
| Part D | Toxic Substances |
| Part E | Resistance to the passage of sound |
| Part F | Ventilation |
| Part G | Sanitation, hot water safety and water efficiency |
| Part H | Drainage and Waste Disposal |
| Part J | Combustion appliances and fuel storage systems |
| Part K | Protection from falling, collision and impact |
| Part L | Energy conservation of fuel and power, alongside the energy efficiency of the building |
| Part M | Access to and use of buildings |
| Part N | Glazing Safety (Withdrawn) |
| Part P | Electrical Safety |
| Part Q | Security |
| Part R | Physical infrastructure for high-speed electronic communications networks. |
| Regulation 7 | Materials and workmanship |
PLANNING DRAWINGS VS BUILDING REGULATIONS DRAWINGS:


PLANNING DRAWINGS:
They ensure your location plan is to-scale
These drawings depict to-scale drawings that display your building proposal's size and overall layout.
It illustrates the scope of work that they intend to take place
Shows all the proposed designs of each room, elevation and section
Planning drawings focus primarily on the appearance and purpose of materials
Little to no construction information is included.
It includes no direct reference to the Building Regulations.


BUILDING REGULATION DRAWINGS:
The building regulation is a more detailed series of construction drawings that display not only the proposed build or works but also their specific materials and construction.
They are drawings that provide the total measurements.
Drawings of this kind come fully labelled with notes that prove your new build's compliance with the necessary building regulations. It includes fire safety, gas and electricals, mechanicals, demolition and the drainage system.
All construction details are presented at a much larger scale to include more detail about the works and materials.
It will also include any thermal and structural calculations.


DO I NEED BUILDING REGULATIONS APPROVAL?
Most structural work you encounter or wish to implement in your household or property will require Building Regulations approval, whether you wish to curate new flats, houses, extensions, significant alterations or a fundamental change of use or class.
HERE IS THE LIST OF PROJECTS WHERE YOU WILL UNDOUBTEDLY REQUIRE BUILDING REGULATIONS:
All brand-new buildings, not including agricultural buildings
Garages that don't include detached garages under 15-30 square meters. It also includes those 1m away from a boundary or those built from non-combustible materials.
Any buildings with new extensions and basement extensions, no matter how big or small
Roof extensions, balconies, roof terraces, barn, loft and garage conversions
Flat conversions that transform a single dwelling into several flats
Those wishing to convert flats back into a single house at ground level
Significant structural alterations include load-bearing and non-bearing walls that separate rooms from staircases, halls or landings.


YOU MAY ALSO REQUIRE BUILDING REGULATIONS APPROVAL IF YOUR PROJECT INVOLVES:
The replacing of your connected electrics and fuse boxes
The installation of a brand-new bathroom that will include pipework and plumbing
The changing of the electricals for your shower or bath
The installation of any fixed air-conditioning systems
If your new build needs doors or windows replacing
If your new build requires flat roofs and pitched roof coverings
Those that require installations or replacements for heating systems
Those that require extra radiators for their household or property heating systems


HOW TO GET BUILDING REGULATIONS APPROVAL?
You'll find that every local council across England and different areas of the UK have their building control drawings that state its unique regulations and guidelines. The local council is responsible for seeing which building plans suit and comply with the local building regulations. Once you've thought out your building regulations, your architect can then assist you in submitting your planning application to the local authorities to seek approval before work progresses.
The UK government has since introduced and allowed Private Approved Inspectors as an alternative method to gaining sufficient approval from planning consultants and local councils. These can help check work regarding the necessary building regulations to get approval. You are always free to choose the style of building control and the body you wish to use for your specific project.
For those utilising an Approved Inspector compared to a building control service, you must ensure your private inspector issues what is known as an Initial Notice to your local authorities before any work on-site commences. The authority will thoroughly check your planning details and new-build drawings within the next five working days.
THE PROCESS OF BUILDING REGULATION DRAWINGS
To ensure that the whole process of creating accurate building regulation drawings is smooth, our architects can sufficiently manage the whole procedure for you or the company.
We'll handle everything from the building regulations application to initial drawings to the final approval before you begin construction.
When checking the building regulation drawings we create for you, we've had plenty of experience closely working with private certified building inspectors and local building authorities. So we can assess our drawings against the criteria and ensure that they completely comply with London UK regulations.

Once we've made sure that our drawings have the required approval, the approved inspector or building control inspector must visit your construction site at significant stages.
In doing so, they can ensure your building work is accurately carried out to match your architectural drawings and the safety standard stated in the building regulations.

At the end of construction, your assigned building inspector will visit your site and issue a final completion certificate after viewing the new build or extension work.
The certificate proves that their work complies with local and general UK regulations. If they visit and discover that work does not comply with the vital requirements, the building inspector has the right to refuse your certificate. We highly recommend selecting an excellent company with plenty of experience in curating high-quality building regulation drawings throughout the London area.
Trimble is an incredibly reliable business familiar with the area's regulations and what can and cannot be done in terms of a new-build plan. Contact us today for further information or free quotes if you need trustworthy professionals to carry out this job.
Frequently Asked Questions about Flat Conversion
You require final on-site inspections to ensure compliance with your area's regulations and gain a final sign-off to cement your construction's compliance with the guidelines.
Without building regulation drawings and final certificates, you may be forced to demolish or re-do your work so that it can comply or face fines up to £5,000. The lack of compliance could put your property in a detrimental position, making it impossible to sell your building in the future.
Full plans and building notices are always valid for the first three years from the date the local authority initiated them. Beware that these plans and notices will have lapsed if you do not start your building work within the stated duration.
To obtain building regulations approval, you can utilise the knowledge and assistance from an approved inspector, local authorities or professional building control services in your local area.
Trimble Architects Ltd offers quality building regulation drawings that are accurate and trustworthy against the necessary local areas throughout London.
Your building notice will be a statement that specifically offers the building control departments or office of professionals a 48-hour notice explaining the intention of your building work, declaring the particular address and a complete description of the type of work.
Such notice is helpful for those constructing specific types of buildings that do not have time to prepare full plans and drawings. Straightforward projects like extensions or smaller buildings are suitable works to utilise notices, as plenty of these fall under the 'Under Permitted Development' category, which does not require planning permission to go ahead.
We do not recommend using building notices for more challenging or larger building projects; this is an incredibly risky angle, and these typically don't work where building regulations apply the most.
You cannot guarantee any insurance during such a short period that your new construction complies with the necessary building regulations, so there is no way to ensure your project is safe.
Based in Twickenham
South West London
Contact Us
If you require help and advice from our building regulations drawings architects get in touch today. Trimble Architects are based in Twickenham and work across south-west London.
Get in touch