Can My Neighbour Build An Extension
Posted by:
Admin
Tags:
Posted date:
29-09-2021

Many home owners want to know: can my neighbour build an extension up to my boundary? We look at how close to a boundary an extension can be built.
Bob Trimble is a chartered architect registered with RIBA with 30 years experience in the industry. Trimble Architects work throughout Hounslow, Twickenham, Richmond, Kingston Upon Thames, Teddington and the surrounding areas of London.
Can My Neighbour Build An Extension Up To My Boundary?
There are several reasons you might want to extend your property, such as adding value, light, or even just more space.
An extension to your home is usually classed as 'Permitted Development'. There are many factors you must consider before building an extension to your property. It will help you a lot in the long run if you spend a fair amount of time planning the development and thinking about these potential factors.

Whilst it may sound obvious, construction on buildings often requires a lot of machinery and vehicles that will need to access your site. You will need to make sure there is enough parking space on your street and ensure you are not blocking neighbouring vehicles in the area.
Shared walls often get in the way of building extensions. If your house is semi-detached or is a terrace, you'll likely have to comply with the Party Wall Act and discuss a party wall agreement with your neighbour. By doing this, you'll have the maximum amount of new space possible.
In the event of a disagreement, you can hire local party wall surveyors. They offer a range of services but can mainly help solve any disputes and provide relevant advice.
When your plumbing was installed, it was likely done to the specification of your house and wouldn't consider any future extensions. You should contact whoever is responsible for installing the utility you are concerned about, and they should be able to give you an answer to whether any problems will occur.
As anything can go wrong when doing extension work, it is essential to be well informed about all possible factors that could affect it. Ground conditions are important to consider as the structure must be securely supported.
Obstructive trees in your garden (or your neighbour's garden) may seem irrelevant, but if you don't have direct permission to remove them, you'll be forced to work around them. You should also research if the building has experienced any flooding in the past, as the problem could resurface once you start working with plumbing.
How Close To A Boundary Can An Extension Be Built?
Those planning on building an extension of more than one story cannot go beyond the boundary at the rear by more than three meters. This only applies when there is no other property on the land to the rear of your home.
The side boundaries can be built up, but there are many factors to consider. You can't breach the boundary in plan and elevation, factoring in the 45-degree rules that most planning officers use.
With this information, they take the closest window to your build on your neighbour's property and if it breaches an established 'imaginary line', then planning permission will likely be denied.
A neighbour of yours can submit a householder planning application that voices any of their concerns during your planning process.
It is always worth speaking with your neighbours, especially when boundaries are involved, to discuss your ideas and potential compromise.
If you allow them to see your proposed plans, talk to them about heights from your build, and if they notice a problem, it can be rectified before any work taking place, speeding up the whole process.
It helps to communicate with your neighbour on a more civil level first before posting any party wall agreements through their letterbox.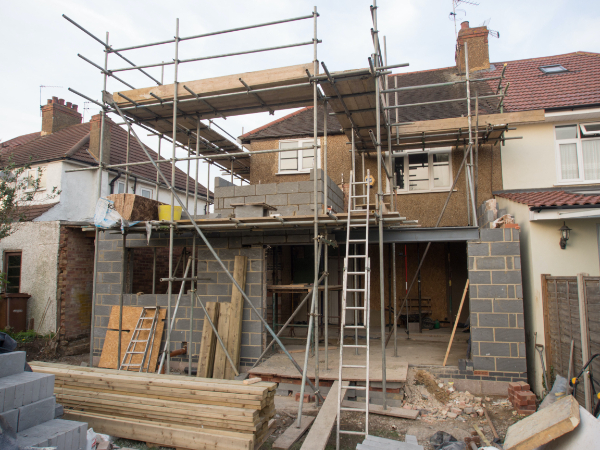 As a general rule, a build that reaches 7.2 feet is considered acceptable, and anything over that, we would recommend speaking to your neighbour(s).

There are two types of boundaries in total. In both Welsh and English property law, there are physical boundaries and legal boundaries. The physical is much easier to determine as it is a barrier or an object that separates the property from another. This is often a fence, hedge, or wall.
The legal boundary is a line on the property plan or description of the area that divides one property or land from another. This boundary can become complicated and often leads to many issues when it comes to building extensions.
Can My Neighbour Build Up To The Boundary Line?
In most cases, a neighbour only has the right to build up to the boundary line between the two houses, but there are certain circumstances when they can legitimately build on your land.
You can give consent to your neighbour for them to build new foundations and a party wall on your land. An existing boundary wall built on the land of both properties can be taken down and rebuilt as a new party wall, possibly when your neighbour is constructing an extension.
If you choose to do this, the new wall shouldn't come any further onto your land than the existing wall. If the wall is thickened, for example, changing it from a single brick wall to a cavity wall, it would need to be done on your neighbour's land.
The foundation of your neighbour's extension can be built on your land only if it is necessary. In practice, however, it's very rarely necessary for a foundation to be built over the established boundary.
The foundation for a single-storey, two-storey extension or new building doesn't need to project beyond the established boundary. Your neighbour has no right to put a reinforced concrete foundation on your land for the purpose of a ground floor extension without your permission.
If a neighbour is constructing a loft extension, they are legally allowed to increase the height of the party wall in place. Think of the party wall as shared ownership instead of each party owning the half that is on their land. The one who is carrying out the work can raise the party wall for either partial or full width.
Your neighbour has the legal right to underpin the party wall. If they decide to, they can place the underpinning on your land. However, this is subject to numerous restrictions, especially if reinforced concrete is used.
If your neighbour is excavating or constructing a basement close to the side of your property, they have the right to underpin or safeguard your property's foundations. They also have the right to put new foundations on your land, although this is indeed rare. Your neighbour cannot legally put reinforced concrete foundations on your land for a basement without your direct permission.

Do you want to find out more about boundaries and party wall agreements in Hounslow, Twickenham, Richmond, Kingston Upon Thames or Teddington? We offer advice on party wall agreements throughout London and the surrounding areas.
Architects Near Me
Are you looking for architects near me? If you are looking for RIBA local architect services in Twickenham and the surrounding areas. Trimble Architects works with clients throughout London and the surrounding areas including:
Bob Trimble is a chartered architect registered with RIBA. Bob Trimble has 30 years of experience working with residential and commercial property projects. For 4 years, Bob Trimble has worked from his housing association and private architectural practice for clients throughout Hounslow, Twickenham, Richmond, Kingston Upon Thames, Teddington and the surrounding areas of London.