Project Architect VS Project Manager
Posted by:
Admin
Tags:
Posted date:
30-11-2021
The terms Project Architect and Project Manager get thrown around a lot, and it seems like there's a blur between the two. While they can be related, this article will explain everything there is to know about both roles and how you can ensure you're hiring the best architect for you.
What Is The Difference Between A Project Architect
And A Project Manager?
What is the difference between a project architect and a project manager? We look at the roles and responsibilities of a project architect and that of a project manager.
What is the role of the Project Manager?
In some operations, a Project Manager and Project Architect will become one or are interchangeable. However, a project manager does have unique responsibilities and duties, which can differ from an architect.
The primary duties and responsibilities are:
Overseeing the architectural process from design to completion
Review funds, data and estimates
Refer back to the client with progress and ensure expectations are met

Manage the project team on deadlines

Maintain and manage project files

The Project Manager should be a licensed and qualified professional with experience, as they will need to oversee and lead multiple teams at once. Any person who is critical thinking while having design and construction knowledge will be at the helm of this role.
On a daily basis, a Project Manager can expect to attend and schedule any project meetings, ensure that key deadlines are met, provide and document each step, and communicate with the client. Someone with this title must be flexible and show research on how they're achieving the client's goals. Being good at communication with a wide range of people will get any project manager far.
In a scenario where a site also has a Project Architect, they would report to the Manager with updates. The architect may have a sub-team they run, and the manager is the head figure in that operation. Below that, you may have Job Captains and then the project and junior staff, all reporting to their respected superior.

Qualifications & Responsibilities
Ironically, despite being a different title and role altogether, a Project Manager should have similar qualifications to an architect.
The typical qualifications expected are:
A qualification in architecture and is a registered architect
Construction development experience
Construction administration experience

Contractual and financial understanding

Documentation and production experience

QA/QC

Leadership qualities

However, some Project Managers will not have all of these and will have other factors they bring to the table. Being a registered architect isn't a necessity, as most managers will work alongside an architect for the project. The ability to take on many tasks and ensure that the overall production of a project is moving as desired are the two main qualities anyone will look for in a Project Manager.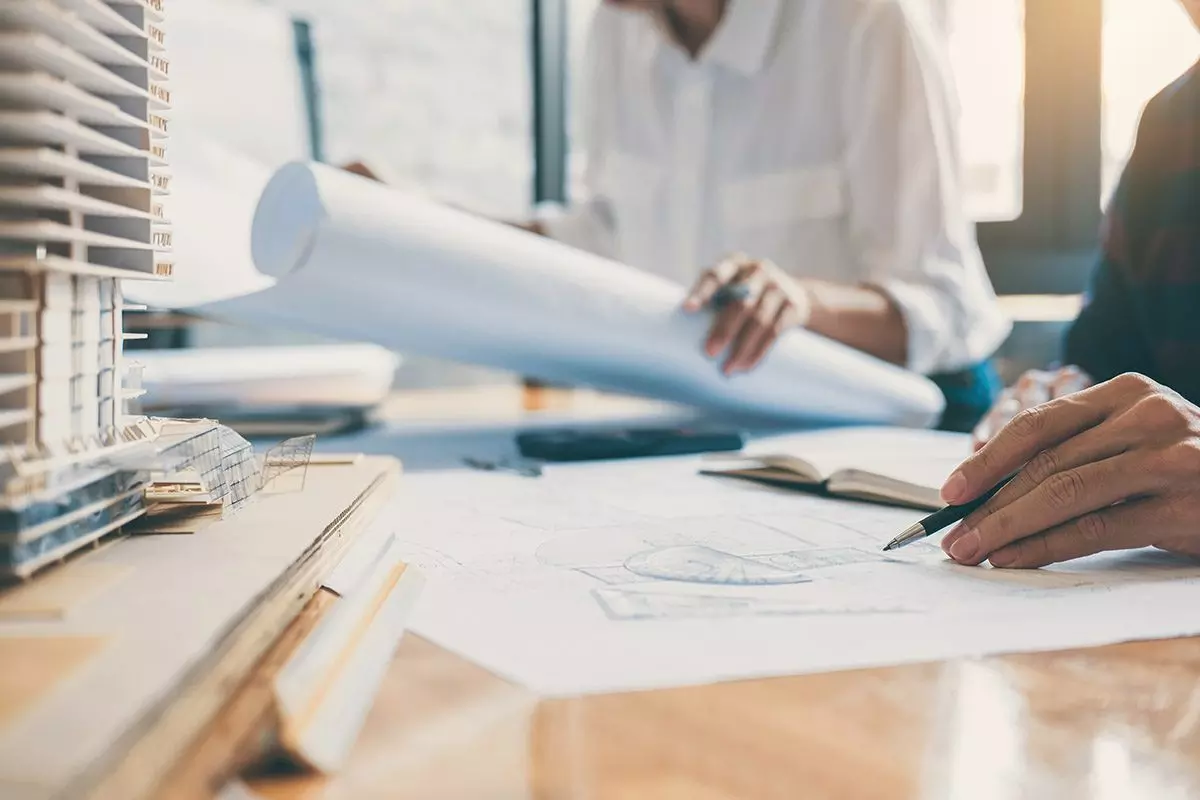 There are many project manager's in the industry that do not have a formal architecture qualification and will work with architects regularly as a team.
A good Project Manager should also understand the time, cost, scope and quality of any project presented to them as these are their main responsibilities. The time concerns the project's overall duration and an understanding of how long each process will take. In the case of construction, that's allowing sufficient time for the electrical team to complete their work, for example.
Understanding cost is essential when relaying information back and forth between clients, as the financial investment will make or break a project. Having realistic scope will ensure that each department working towards a goal has ample support, safety and they are aware of deadlines. The quality comes through when a project manager aims to achieve the customer's goal as best they can, without deviation. They should ensure to run any decisions by the client as the building process continues. A project manager has to stay on their feet and be aware that the process is a moving, living thing.

Project Architect vs Project Manager
The most important difference between a Project Architect and a Project Manager is the distribution and management of tasks. If you were to simplify the tasks, an architect is responsible for overseeing the project's design process. In contrast, the manager should supervise the execution and planning and may view the project as a whole more than the architect.
Architects require a licence to practise as an architect in their given state, and this requires taking an exam and earning a degree. Due to this, an architect must be a licensed professional to complete their job and oversee the design, typically drawing up the design in the first place. While architects and managers will work and consult the client more than any other team member, the architect will typically understand the structural elements and material options to realise a dream.
On the other hand, a project manager doesn't require a formal degree or qualification. Still, it can make the process of getting a job much easier, as having the ideal qualities of a manager is only half of the job. A project manager can still acquire a certificate to show that the individual has leading and project management qualities, which also requires an exam being passed. The project manager controls the cost, timeline, and scope, and it's their job to eliminate any risks that could arise on the construction site.
Both job roles are crucial on a worksite, and a good project cannot operate without either of them. The leadership and decision-making come from both parties, and they will typically work with one another to realise the client's requirements and visualise all technical elements of the build.

On average, the project architect will know more about 2D and 3D design techniques to develop and visualise the construction. Although this is now done by technology and computer programs, knowledge is still needed for an architect to practice. In contrast, the project manager will have more experience in business analysis, budgeting, scheduling and other management skills.

Do I Need A Project Manager or Project Architect?
Almost any sized project can benefit from an architect's help, specifically more extensive operations. It's understandable to want to navigate a building project without one, as hiring an architect can cost a lot of money, but their experience is invaluable.
Any development plans that will significantly alter the aesthetic of a buildings fabric will also need approval, which can be a lengthy hassle without an architect on the team. Many articles online will tell you that you can complete this yourself, and sometimes you can, but you will jump through more hoops trying to comply with Building Regulations alone.
An existing architect can understand the systems in place and improve your relationship with the local council if you're working with a trusted source. Planning Permission is a major responsibility for any designer to complete, and it isn't something to be avoided.
As for a project manager, you can find their job extremely complex. Without one on-site, you will find yourself planning, designing and managing the entire operation. While some project managers don't have a formal qualification, they excel at personal-level situations and can handle a number of people and processes.
If you are hiring a project manager from an office or company, you know they are trusted in their field and can sometimes bring staff and workers with them, once again halving your job. Being able to spot any problems before they arise will save you more money and time in the long run.

Therefore, do you need a project architect or manager? Sometimes you don't need one, but you will benefit from one. The problems you create by not having one on-site can dwarf the ones you solve.

Choosing the right architect
Almost all building projects will require the assistance of an architect; even refurbishments, reinforcements and extensions could benefit from someone with experience.
Consultations can be arranged with architects to ensure you're getting the right one for the job, and those sessions are generally free of charge. Hiring an architect can be expensive, but you're paying for a lot of experience, and their presence can make acquiring the needed paperwork and Planning Permission much easier.
You are also paying for the official title of architect, as it is protected by law. Only those that have acquired the title and passed the exam can legally call themselves an architect; otherwise, you're more likely to work with a designer. The Architects Regulation Board (ARB) will be advertised, and you can ask for proof of this if you doubt who you're working with or their training.
Many designers will try to pass themselves off as architects and will bend the name slightly. 'Architectural Designers' or 'Architectural Technicians' who don't have any official proofing on their website to back up their claim are falsely using that title. You will also find yourself working with many consultants and contractors who are trying to bridge the gap into an architect, but they cannot do so without legal acknowledgement. Any practice with the RIBA (Royal Institute of British Architects) logo displayed is trustworthy.

the right architect
When choosing the right architect, you should also take care of how they listen and first take the brief. Any successful project is a marriage of client and architect, and a good architect will ask you questions about:
Your budget
Your aims and intentions
Style wants and desires

Contemporary or high-tech?

Sustainability?

Of course, different architects work in different sectors. One may have more experience in rear wall extensions, while others may have more in loft conversions or bungalow construction. Ensuring you collaborate with someone who has experience will smooth out the entire process and bring value.
Architects Near Me
If you are looking for architectural services throughout Hounslow, Twickenham and the greater London area, then get in contact with our team today. We can offer advice and begin guiding you towards making the right decision.